Be an ACTS Special Friend
with
Richard (Dick) and Joy Innes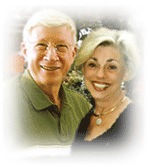 ACTS Special Friends are people who are interested in the ministry of ACTS International—which is headed by Dick and Joy Innes—and receive Dick and Joy's monthly ministry report via email. We rarely, if ever, send out a report more than once a month.
Dick is the founder of ACTS International and the director of ACTS Int. (USA). Joy is the ACTS Int. (USA) office manager.
We invite you to join our Special Friends list. To do so please subscribe to the ACTS Special Friends list: