ACTS Outreach Greeting Cards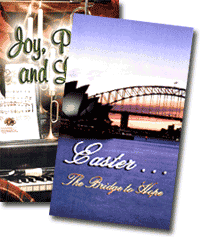 Not only can you send your friends and neighbours a warm greeting at Christmas and Easter You can also send a powerful evangelistic message. These cards can be overprinted with your own special message in addition to the card's message.
Examples of the content of the cards are:
Easter:
AC ES2 Card: The Bridge to Hope (story)
AC ES3 Card: Life's Eternal Gift (story)
AC ES3 Card: A Gift of Love (story)
AC ES3 Card: Hope, Joy, Freedom
AC ES3 Card: Easter Blessings
Christmas:
AC CH2 Card: Peace (story)
AC CH3 Card: Christmas Greetings (story)
AC CH4 Card: Seasons Greetings (poem)
AC CH5 Card: Joy, Peace and Love (story)
AC CH6 Card: Peace at Christmas (story)
The Caring Collection
Packs TCC 01: Words to Encourage
Packs TCC 02: Words of Comfort
Packs TCC 03: Words to Inspire
NOTE: You need Acrobat Reader software to be able to read and print the Order form. If you don't have a copy, you can get a free download.
| | |
| --- | --- |
| | For Free Acrobat Reader Software |
| | For Order Form and Prices |
| | To request FREE Samples |
or write to:
Terry George, Director
ACTS International
PO Box 88
Kent Town
Adelaide, SA 5071
Phone: 08-8336-8866 (within Australia)
61-8-8336-8866 (from overseas)
Fax: 08-8336-8877 (within Australia)
61-8-8336-8877 (from overseas)