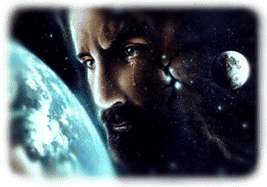 Painting "Jesus Wept" by Erik Hollander.
Used by permission.
Afew years ago a TV commercial showed a Mercedes car crashing into a concrete wall during a safety test? After the crash an engineer knelt down to examine the damage, which was minimal. A reporter then asked the engineer about Mercedes' energy absorbing car body. After the engineer told all about the car's unique design, the reporter asked him why Mercedes doesn't enforce their patent on the design, a design evidently copied by several other companies because of its success.
"The engineer then replied matter-of-factly, 'Because some things in life are too important not to share.'
How true this is. There are many things in life that fall into this 'too important not to share category.' Advances in science, medicine, and technology. But all of these pale in importance to that of sharing the gospel message of Jesus Christ."1
In addressing the ever increasing moral decline in North America, Chuck Colson once stated, "How has America come to this point? Why is our culture so utterly depraved? I can only think of what Alexandr Solzhenitsyn said about the catastrophic consequences of the Russian revolution. 'I recall,' he said, 'hearing a number of older people offer the following explanation for the great disasters that had befallen Russia: Men have forgotten God; that's why all this has happened.'
"Solzhenitsyn was right. Indeed, I can't find any better explanation for why we find ourselves in the state we are in. We have forgotten God."
An English bishop once said, "Everywhere the Apostle Paul went there was either a revival or a revolution. Everywhere I go they serve tea."
Of one thing we can be certain, here in North America we urgently need a great spiritual awakening. Thus, are we the members of Christ's Church willing, with God's help, to do everything in our power to help usher in a revival or a revolution, or will we stay in our comfort zone and remain satisfied with serving tea?
Several years ago I was struggling with the challenge to be an effective witness for Jesus for the simple reason I was too afraid to tell people about Him and their need to accept Jesus as their personal Savior. In my devotions that morning I prayed: "Dear God, I have a confession to make about being a witness for Jesus. I hate witnessing because I'm too afraid, so I'm quitting. However God, I'm available for You to use as a witness for Jesus, but you'll have to do it through me because I'm too afraid.
Ever since that day, I have prayed every morning, "Dear God, I am available afresh today. Please make me usable and use me to be an effective witness for Jesus, and help me to be as Jesus in some way to every life I touch this day—for Your glory and not mine."
That prayer changed my life. I challenge you also to pray this prayer every morning for the rest of your life as I plan on doing. I don't know how God will use you—or in what way, but as long as you are sincere, God will use you with the gifts He has given you as He has used me. One of my God-given gifts is that of writing so I use this gift to publish the gospel message of Jesus Christ via both the printed page and the electronic media.
It has taken continued commitment and hard work which is my responsibility, but I have always found that as long as I am faithful in doing my part, depending on God He always does His part. As a result here in ACTS almost every day of the year we are seeing people record a decision response to either accept Jesus Christ as their Savior or to re-dedicate their life to Him.
Some years ago Steven Jobs, the founder of the incredibly successful Apple Computer company, was convinced that John Sculley was the man he needed to help him fulfill his dream of building a completely different kind of computer company. However, "Mr. Sculley safely entrenched as president of the Pepsico Corporation, the makers of the soft drink Pepsi … had achieved everything that a man could want: power, prestige, public recognition, an enormous salary and a secure future. The thought of a career change … frightened him….
"Steven Jobs, sensing this, finally confronted his new friend with this pointed question: 'Do you want to spend the rest of your life selling sugared water or do you want a chance to change the world?' That question penetrated deep into the heart and mind of John Sculley. It changed the course of his life. He therefore went to Apple Computer and helped it to grow into one of the most successful corporations in the world…."2
I'm not suggesting that you should change your job, but I am asking, "Do you want to spend the rest of your life doing only what you are doing now, or do you want to have a part in helping to change the world—one person at a time?"
As Billy Graham said: "I am convinced the greatest act of love we can ever perform for people is to tell them about God's love for them in Christ."
Our First Responsibility
Jesus Christ's last commission to all His followers was to "Go into all the world and preach [communicate] the Good News to everyone, everywhere"3 This needs to be the first responsibility of every true follower of Jesus Christ!
One of my favorite quotes happens to be from a Buddhist monk who said, "To know and not to do is not yet to know." To translate this into our Christian terminology it could be, "To believe and not to act is not yet to believe because I only truly believe that which motivates me to action." Furthermore, to believe and not to act is not yet to believe for we only truly believe that which motivates us to action. And as God's Word also says, "Faith without works is dead."4
Click HERE to to see various ways you can easily and non-offensively share the Christian faith with others and, if you feel so led, become involved as a People Power for Jesus Partner.
"When many people each do a little, together
we can accomplish great feats for God."
Another Word from God's Word: "It is God himself, in his mercy, who has given us this wonderful work [of telling his Good News to others], and so we never give up."5
1. Rev. Steve Jackson, Sermon: "Come and See."
2. Donald William Dotterer, "Living the Easter Faith," CSS Publishing Company, 1994. Cited on www.eSermons.com, 2002.
3. Mark 16:15 (TLB).
4. James 2:20.
5. 2 Corinthians 4:1 (TLB).